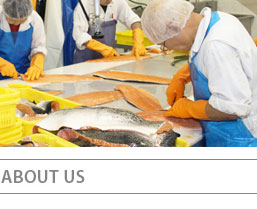 Ocean Master Foods International Ltd. is Vancouver, British Columbia, Canada's Local Seafood Supplier and Smoke House. Committed to sourcing and producing Local, Safe, Sustainable, Traceable and Nutritious Seafood.
Company owner Mike Featherstone is committed to providing the best seafood products, sourced locally from sustainable fisheries.
Ocean Master Foods prides itself on its gourmet smoked fish products and high quality processed fresh and frozen fish.
The processing facility operates under a strict Hazard Analysis Critical Control Point (HACCP) program, Canadian Food Inspection Agency(CFIA) regulated, Federally Registered (#0959) and is European Union(EU) approved. We strive to utilize only Ocean Wise recommended products where available.